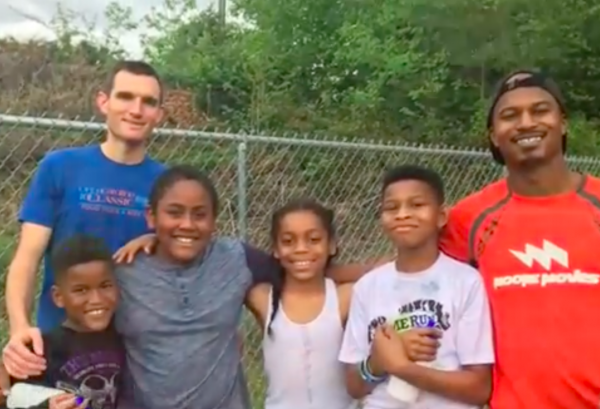 May 22, 2018 by Let Me Run National
Black Men Run is a national organization, created to encourage health and wellness among African American men by promoting a culture of running/jogging to stay fit, resulting in "A Healthy Brotherhood."
In Columbus, OH and Charlotte, NC, Black Men Run members have taken an active role in the Let Me Run program as coaches, volunteers, and Advisory Council members, with hopes of expanding the partnership into other regions.
Black Men Run co-founder Edward Walton said, "We can achieve our organization's objectives and mission by partnering with organizations with like-minded goals to empower everybody." Let Me Run is grateful for Black Men Run's outpouring of support and dedication to the health and wellness of the boys in their communities through Let Me Run.
Columbus, OH
"I know Maclin, too!" That's what Claire Houpt, Let Me Run Columbus Regional Director, kept hearing over and over again. Claire met Maclin Williams last year after reaching out to him, hoping that Black Men Run could get involved with Let Me Run Columbus. What she knew about Maclin was that he was a "man of few words" and extremely passionate about running and the youth in his community. When she recommended him to the Columbus Advisory Council, what she didn't know was how many people know Maclin. Several Advisory Council members responded by saying "Of course we know Maclin!" Needless to say, it was a unanimous vote to invite him to join the Let Me Run Columbus Advisory Council.
Not only is Maclin the Chapter leader of Black Men Run Columbus and runs in several local running clubs, but he also has an inspiring story as to how he came to love the sport of running. Read more about Maclin's story.
Let Me Run Columbus is excited to have a leader like Maclin join their Advisory Council. He serves as the Program Development Co-Director and has been key in building community relationships in the short time since he joined. His passion for running and mentoring youth in his community makes Let Me Run a perfect fit for this Army National Guard Science Officer. You may never get a smile out of him for a selfie, but if you're ever in Columbus, you're highly likely to "run" into him on the paths of Columbus. And then you too, will have the pleasure of knowing Maclin.
Read more about Maclin and Black Men Run in Columbus, OH.
Charlotte, NC
Black Men Run Charlotte has been a huge supporter of the Let Me Run program over the past two years. Four Black Men Run members serve as coaches in the Greater Charlotte Area. Countless Black Men Run members have volunteered at races with us in support of Let Me Run. And ten BMR members participated in our 2017 FallFest 5k — plus several other members and their spouses volunteered at the event. We're also lucky to have BMR member Shawne Carew serve on our Let Me Run Greater Charlotte Advisory Council. Not to mention, Jay Seago, our Let Me Run Greater Charlotte Regional Director is also a member of Black Men Run, and completed the 200-mile Palmetto Relay with a 12-man BMR team. They truly are a healthy brotherhood!
Read more about the Black Men Run & Let Me Run partnership in Charlotte