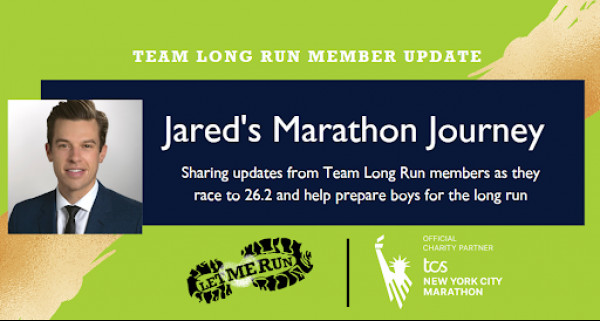 July 18, 2023 by Let Me Run National
Jared is no stranger to the marathon. He's already completed three marathons and has his eyes set on completing all six of the "majors," or the six greatest marathons in the world. He'll be running the 2023 TCS New York City Marathon as part of Team Long Run, which will also serve as the halfway mark to completing all of the majors.
We caught up with him to talk about his plans for the 2023 TCS New York City Marathon, how his training is going in the heat of the summer, and any advice he has for others considering a marathon. Jared has big fundraising goals for this marathon, and we are eager to help him reach them!

LMR: Why did you decide to join Team Long Run and fundraise for Let Me Run?
Jared: I joined Let Me Run to help contribute to their effort and help prepare the next generation of Men in our community, both physically and mentally. I didn't particularly enjoy running as an adolescent (nor was I the fastest kid), but overtime, I've fallen in love with running along with the benefits that come from it.

LMR: The 2023 TCS New York City Marathon is on November 5, 2023. With the race a few months away, how is your training going? What is your longest run to date while training for the race?
Jared: Summer training is brutal, I'm just trying to maintain mileage until early fall. 10 miles is my longest run to date.

LMR: What has been your biggest training challenge so far? How is this training cycle different (or similar) to other races you've run?
Jared: Increasing speed without increasing effort exponentially. Focusing on cadence and tempo rather than per/mile speed.

LMR: You've already raised $3,750 for Let Me Run. What is your goal, and do you have any specific plans to achieve it?
Jared: $10,000 is my goal! Hoping friends and family start opening their check books as we get closer to race day.
DONATE TO JARED LONDRY & SUPPORT LET ME RUN

LMR: What advice would you give to anyone considering training for a marathon?
Jared: If you can run a mile, you can run a marathon. It's all mental and putting the work into training.