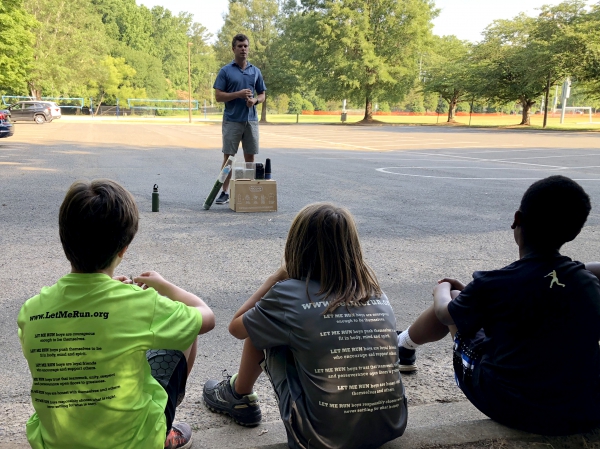 October 24, 2018 by Let Me Run National
Bill Johnston is co-founder of Recover, a sustainable apparel company that upcycles plastic into fabric to make clothing and other gear. Let Me Run is proud to have Recover as an official merchandise partner and supplier of all of our race shirts across the country.
Each Recover Let Me Run shirt is made of 8 recycled plastic bottles and upcycled cotton, and is part of inspiring and integrating environmental education into the Let Me Run program. Together, Let Me Run and Recover have already diverted 192,000 plastic bottles from the landfill, saved over 715,200 KWH of energy, saved over 219,120 lbs of CO2 emissions, and saved 49.9 million gallons of water.
About our partnership, Bill said, "I really believe in Let Me Run's mission. We have been working with Let Me Run on apparel for over a year and I've been really impressed with the organization and the work it's doing. I wholeheartedly believe that running and exercise is good for a person's general well-being, and using it as a vehicle to encourage boys to be themselves is a great way to make a positive impact on a young man's life. Let Me Run is using this platform to reach tens of thousands of boys across the country, and to do something on that scale takes real money, which is why I signed up to be a Let Me Run Charity Runner, to help them continue to raise funds and awareness for the program."
As a charity runner, Bill set a goal to raise $5,000 for Let Me Run. When asked about his fundraising goal, Bill said, "For me, combining that personal goal with benefiting the greater good just makes sense and gives me more drive to train. Let Me Run is such a great organization, encouraging boys to give back to community, live healthy lifestyles, and be comfortable in their own skin. It takes a healthy hobby that I enjoy, and facilitates that outlet and experience for others. For me, running has been something in my life that has made me a better person, as weird as that might sound. I'm healthier, and my mind is more clear across the board."
The 2018 TCS New York City Marathon on Sunday, November 4th will be Bill's first marathon, but he is up for the challenge, saying, "I've wanted to run a marathon for years now, and this was a great reason to go ahead and do it. It will be a very satisfying personal experience to run the NYC Marathon, but it means so much more to do it for something bigger than myself."
Thanks to Bill and other inspiring supporters like him, Let Me Run has reached over 23,000 boys across the country with programming that supports their emotional, social, and physical health. A few short weeks after Bill crosses the marathon finish line, our boys will be crossing their own 5k finish lines at the end of the fall Let Me Run season.
When asked about that moment, Bill said, "It's hard to say what I will feel at this point, but the cool thing with running a race is that you have a goal of how far you are going to run and crossing the finish line gives you a chance to reach that goal. Thinking about running as a metaphor to life, any journey to a goal always has challenges, but with determination and hard work you can reach your goal."
To help Bill reach his fundraising and marathon goals, cheer him on and make a donation to Let Me Run on his fundraiser page.
And support Let Me Run's entire team of TCS New York City charity runners from across the country here.