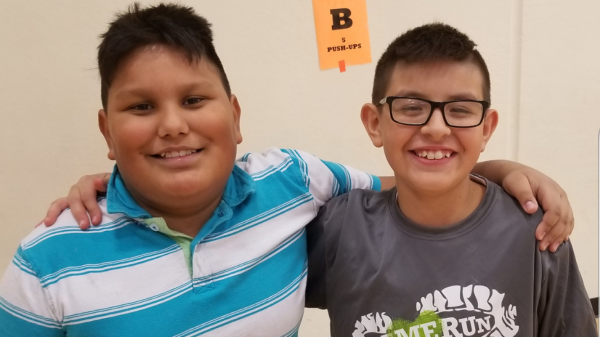 November 20, 2019 by Let Me Run National
Let Me Run Kansas City has grown significantly since its first season in fall of 2013 with a team of 14 of boys. Now, to celebrate reaching 1,000 boys, we wanted to learn how Let Me Run has impacted Gilberto (left), the 1,000th boy in Kansas City to join Let Me Run. See what Gilberto, his coach, and his mom had to say.
As Gilberto's lead coach, here is what I've come to learn about him—
I have noticed that he will pick up trash along our running path and take it to throw it away. During our first practice, we put dots on the boys hands to keep track of how many laps they had completed, but forgot to do it our next practice; Gilberto started bringing his own marker to keep track of how many laps he completes each practice. He also started walking pretty much the whole time, but after talking with one of our coaches, he has gradually developed his own interval schedule where he will run for a little while and then walk. Each practice, he tries to run a little farther than the previous practice. He does not quit. He is one of the boys who always keeps moving, no matter what, and he encourages the other boys to keep moving. He sets his own goal for each practice and does everything he can to achieve that goal—whether it's running a certain number of laps, or doing a certain number of pushups. He takes extra care to encourage the boys around him, and in turn they encourage him. I have noticed him smiling more and he seems more eager for each practice than the one before. I am so happy to have him on our team!

Our Kansas City Regional Director, Heidi, reached out to Gilberto about being the 1,000th boy to register for the program in this region and this is what he had to say—
Why did you join Let Me Run?
To be with my friends.

How does it feel to know you belong in Let Me Run with 1,000 boys in Kansas City?
Smile and shrug—he was happy, but was too embarrassed to say it. In practice, when I told the team that someone on our team was going to be the 1,000th boy, Gilberto said that he would be devastated if it wasn't him, and he smiled so BIG when we said it was him. The other boys were really happy for him, too!

What goals do you hope to accomplish through Let Me Run?
To go a little bit faster.

What is your favorite part of practice?
Doing more push-ups than before.

What have you learned from Let Me Run?
To strategize, how to run and not get tired.

How does running make you feel?
Tired and kind of good.

How would you describe Let Me Run to your classmates or others thinking of joining?
You don't have to run that fast, and that's why you should go to Let Me Run. You can meet new friends, and if your friends go, you can encourage them, and they can encourage you.

What do you enjoy about being part of a team?
Running and being with my friends

Heidi also got the chance to reach out to Gilberto's parents and ask them about their thoughts on the program—
What do you hope your son gets out of Let Me Run?
I hope he can learn to be a good runner, and that maybe when he gets older that he will be able to get a scholarship for running. I hope to see him be a better person, so that he can keep busy and don't go to a different side that makes bad choices.

Have you seen a transformation in your son through Let Me Run?
He is losing weight and getting healthier.

What would you tell other parents about Let Me Run?
At the beginning he talked about it with Mom, and she thought it was a good idea so that he wasn't on his phone or social media too much. It keeps him busy in a good way.