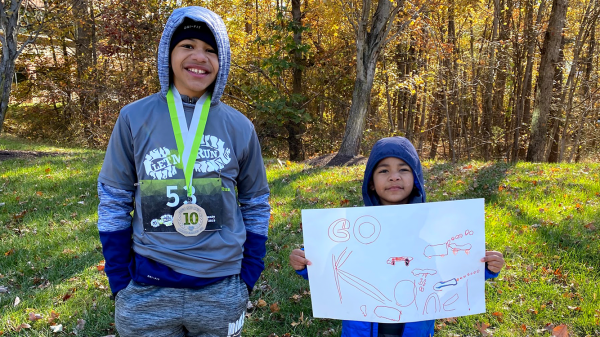 December 6, 2019 by Let Me Run National
Name: Kane
Birthday: December 6, 2009
Region: Howard County
# of Seasons: 1
Why did you want to join Let Me Run?
My friend's mom reached out to my mom to encourage her to sign me sign up. And I wanted to do it because I wanted to keep myself in shape. Also, I was a pretty slow kid so I wanted to improve my running.
What is your favorite part of practice?
Being with my friends and the unity run is my favorite part. I got to know them pretty well through those activities.
What have you learned from Let Me Run so far?
I learned to be the best person I can be. I also learned to show my feelings and emotions. I learned so much, I can't list them all!
How does running make you feel?
I feel happy and energized when I run. I feel like I can do anything.
How would you describe Let Me Run to your classmates?
I would say it's fun and the best place to be if you are feeling down, because everyone is so nice!
What would you tell a boy who is thinking of joining Let Me Run?
I would tell him to just go and do it! A lot of people should really do it because it's a really fun program.
What do you enjoy about being part of a team?
I'm supported. Being uplifted is everything. I really just feel so supported by my teammates and coaches.
How does it feel to be 10 years old?
I'm a decade old! It's crazy looking back 3,660 days to the very first day I was born. I feel like I have a lot more pride and more confidence.
Let Me Run is turning 10, too! How would you tell Let Me Run to celebrate their birthday?
I think we should make either a big meme collage of the crazy things all of us did, or have a nationwide convention.
What would you want yourself to remember in 10 years, when you're 20?
I want to remember my first Let Me Run meeting. I also want to remember myself as a good kid. I want to remember my first organized basketball game that happened 12/7/19. The Let Me Run program helped me get in shape for basketball!
P.S. I love Let Me Run. It's an honor to be in the Let Me Run newsletter.