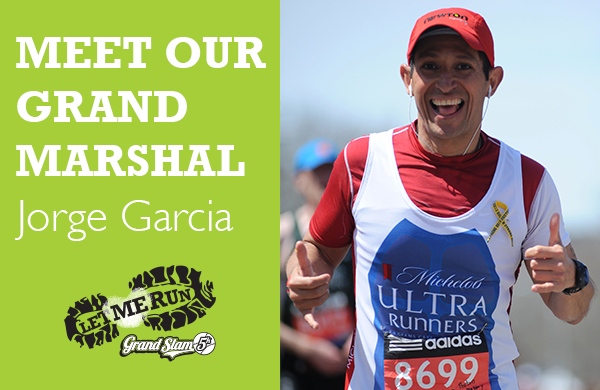 February 27, 2020 by Spotlight
Jorge Garcia is an accomplished runner who has achieved incredible accolades, including 50-State Marathon Club Finisher, 100-mile ultra-marathoner, 12-time Boston Marathon Qualifier, and finalist for 2015 December's Runner's World magazine cover.
On May 9th, he will earn another proud title as the Grand Marshal at the 2020 Let Me Run Grand Slam 5K in St. Louis, Missouri. Jorge says, "I'm very interested in being involved with Let Me Run because it is an awesome program and an incredible opportunity for young boys. Specifically, Let Me Run provides an outlet, mentally and physically, for boys that I, too, could have benefited from as a young boy."
After losing his mother at the age of 8, Jorge faced his fair share of obstacles. Thanks to the support of others, Jorge was able to overcome a difficult childhood and triumph in the world of long-distance running.
Jorge finds his motivation to run from four very special women in his life, his mother who never got to personally witness his passion for running, his wife Paula who runs, trains, travels and supports his every single step, and his daughters, Alexis and Alicia. He's also inspired by his running family, both local and abroad, including two other accomplished runners — elite ultramarathon runner, Dean Karnazes, and former Runner's World Chief Running Officer, Bart Yasso.
Jorge developed his sense of discipline from his experience in the Marine Corp, which helped shape him into the leader and runner he is today. In 2006, Jorge ran his first marathon, Spirit of St. Louis Marathon, where he struggled to finish, but learned many valuable lessons and gained a better appreciation for the marathon distance. Since then, Jorge has achieved many running accomplishments, his most proud being crossing the finish line of the Long Island Marathon in 2015, completing his goal of running at least one marathon in all 50 states.
Throughout these experiences, Jorge developed a passion for giving back to his community. Jorge tells us, "my journey is to inspire others, specifically kids and people who have experienced tough breaks or gone through hard times." As he engages with local Let Me Run teams this spring, the organization looks forward to creating a lifelong partnership, working together to fulfill Let Me Run's mission. Jorge says, "I feel a close connection with Let Me Run's vision and commitment, and I want to be part of it."
He hopes to pass on the love of running, and its benefits, to Let Me Run boys. Jorge says he runs "because I love how it makes me feel. Running is my solitude and time alone with my mother and thoughts. I enjoy the joy of running and sharing that feeling with others. I love to run. Long, short, fast, slow, ripping through trails or pounding the pavement. I enjoy training to push the limits of my potential and complete a variety of running goals."
Jorge hopes to inspire others – runners and non-runners – "to experience what can be accomplished on two feet and to do what others think is impossible." His advice for Let Me Run boys is, "aim high, set goals, work hard, encourage others, and to pay it forward."
Jorge is certainly paying it forward as this year's Grand Marshal for the Let Me Run Grand Slam 5K race. To meet Jorge, the entire community is welcome to register for the race at st-louis.letmerun.org/5ks. For race sponsorship opportunities, email St. Louis Regional Director Monica Wohlberg at [email protected]

ABOUT LET ME RUN:
Let Me Run's mission is to build a new generation of men by teaching boys to be their best selves through a character-development program powered through running. With a comprehensive curriculum that applies the power of running, the program encourages boys to develop their psychological, emotional and social health, in addition to their physical health. Twice a week for seven weeks, two trained volunteer coaches lead an elementary or middle school team through practice. Designed to amplify confidence, self-expression, and respect for others, each practice includes a lesson from the Let Me Run curriculum that incorporates running, games and activities. Each fall and spring season culminates in a 5k race festival that celebrates the boys' personal growth. Learn more at LetMeRun.org