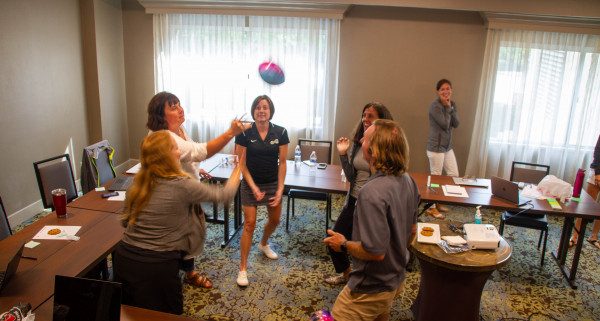 August 17, 2021 by Let Me Run National
What will the Let Me Run program look like for 2021 and beyond? That's just one of the big questions team members tackled during a two-day August retreat here in Charlotte. With most programs cancelled in 2020, this was the first time local, regional, and national staff gathered together in nearly three years.
Regional directors from Seattle, St. Louis, Columbus, Ohio, and Kansas City reviewed additions to the Let Me Run curriculum, program financials, expansion plans, and coaches' training. The meeting also provided the regional teams an opportunity to share experiences and input from their locations — and take advantage of a "running tour" of uptown Charlotte guided by Upper Palmetto Regional Director, Jay Seago.
"I'm grateful to see the level of commitment from the staff that actually makes this program happen on the ground," said Emily Battle, Let Me Run Executive Director. "The time together set the proper tone to kick off the program as we ready to relaunch for this season."
As programs across the country prepare for registration and coaches' training, regional directors left Charlotte both informed and inspired.
"I feel focused and excited," said Shruti Gupta, the new regional director in Columbus, Ohio. "Wonderful time connecting, learning, and meeting you all!"
"As always, it was great to get together and learn and visit with others!" added Kansas City's Heidi McCormick.
That enthusiasm was echoed by the National staff as Let Me Run prepares for its first in-person programming since 2019.
"I was energized seeing everyone, and am in awe of the passion they have for the work they do for these boys and the program," added Battle, "it all makes me optimistic for the fall."
Registration will soon be open now at https://letmerun.org/registration