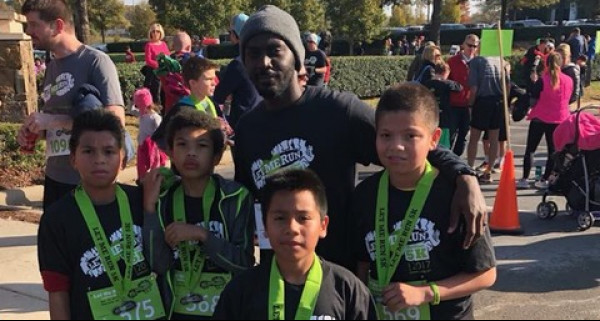 September 28, 2021 by Let Me Run National
"I always tell my students that they're my students for life," Keon Pacheco texted back to a parent who sent some warm words. The student in question had been adopted the year before, and the Mom told Mr. Pacheco, a 3rd grade teacher and Let Me Run coach at Newell Elementary School, that he was the only adult the child wanted to stay in touch with from "before."
It brings to mind that a good coach improves an athlete's game, but a great coach improves the athlete's life. Mr. Pacheco wants to improve boys' lives with Let Me Run.
"I believe in the program's mission and the concepts it teaches," says Pacheco, who also sports the hashtag #MrCheckOh on social media. "I believe one's character is important, and I love how the program uses running as a tool to help foster character growth. It doesn't matter how good of a runner you are, it's more important what type of teammate and person you are."
Pacheco is new to distance running, even though he was a track and field athlete all the way through college at UNC Pembroke. Until he started coaching Let Me Run (at a student's suggestion) in 2016, he had never even run a 5k! Now he runs 3-5 times a week and pushes himself to increase his distance and set new goals. Talk about leading by example! It's just one of the important lessons Mr. Pacheco likes teaching as part of the program.
"A major reason why I enjoy coaching Let Me Run is it addresses 'The Boy Code' and the roles society plays in how we view young men," he says. "Some other concepts the program teaches include integrity, self-expression, helping others, and not quitting. I've seen firsthand the impact Let Me Run can have on boys just by providing them with a space and opportunities to be themselves."
Arguably, Pacheco is pretty good at it, too, both in the classroom and as a Let Me Run coach. As Newell Elementary's 2020 Teacher of the Year, the lessons don't ever stop. He says the pleasure of coaching some "amazing young men" is all his.
"One of my biggest takeaways has been the importance of being a part of a team, and how that unity can empower boys and make them feel valued," he says. "Another big takeaway for me has just been the joy of watching boys grow and develop their skills each season."