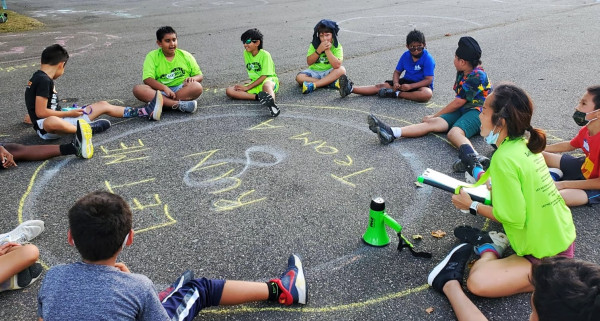 October 14, 2021 by Let Me Run National
Starting any program from the ground up is not easy, but starting after a pandemic -- which shut down school-based activities -- is an even bigger challenge. Angela Wan was ready for that challenge, as a parent volunteer who loves to organize other parents and get the ball rolling for kids in the demographically diverse Herricks Union Free School District (HUFSD) on Long Island, New York.
"She is a force!" explained Let Me Run Executive Director, Emily Battle -- and she's right. Wan's undergraduate work in societal studies underscored her search for a program for boys. Her Duke Law degree prepared her for the regulatory challenges of getting the program passed in her tightly-knit district with three elementary schools. But it was her passion as a parent of two boys that motivated her to follow through.
"No other program builds in practical learning about health, nutrition, and teamwork like this one," she says. Teachers can talk about social and emotional health in a classroom, but it's hard to help kids practice it on a playground, she explains. Parents don't often recognize issues until they've snowballed. That's where Let Me Run steps in to tie it all together, says Wan. "I think the very professionally-written curriculum that blends it all together in a very practical way is what attracted parents."
Wan learned about Let Me Run when her young son helped a buddy train for Girls on the Run. She loved the program so much she looked for something similar for boys, who she notices are often pushed into boxes of "athletic" or "not athletic'' -- without any outlets for the vast "middle," like her own son.
"He's not going to be an all-star -- he's a kid in the middle who isn't a superstar or super needy," she says. "But he needs attention too." And she understands so many "boys in the middle" do.
Parents in her school district were already pretty well-connected to each other through What's App, which had created great lines of communication across the Indian, Asian, and Jewish cultures that are the majority in the small school system. They wanted sports for their 3rd, 4th, and 5th graders, and loved what they saw in Let Me Run.
"Parents were already familiar with Girls on the Run," she says, so they embraced a program that could do the same with boys. "Positivity, inclusivity, how to channel anger and express emotions the right way -- parents were looking for a program that can teach things like this. It really addresses problems in the community."
Despite administrative hurdles like finding the right insurance, district board members and school administrators alike embraced the momentum and helped approve the program in two elementary schools and the district's middle school. Eight coaches are on board the first year, and parents say they are already seeing results.
"We've seen real change in some kids," she says. Parents tell her, "Our boys are out there and getting active, and they look forward to your program. Usually, they just give up."
"Now the kids' attitudes have changed and the parents have picked up on it, and we get a lot of positive feedback on that too," she added.
Wan is now both a leader in her NY Region of Let Me Run, and a coach at her son's school, Denton Avenue Elementary School. She's glad she gave the extra effort to start a Let Me Run team.
"I'm passionate about the program," she says. "I think every school should have one!"