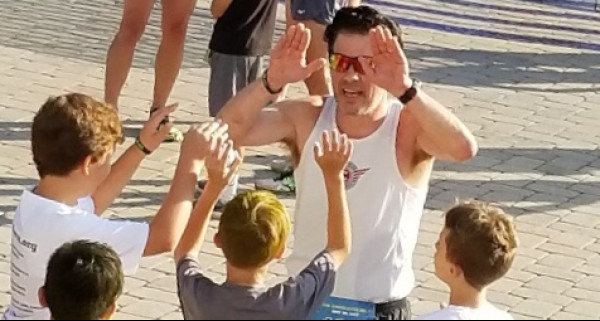 December 7, 2021 by Let Me Run National
Chad Champion grew up running, and he still does. In fact, you might just call him a "champion of running" -- not by medal count or wins, perhaps, but certainly a champion for kids. Champion has been a Let Me Run coach for 5 years, since he learned his daughters' elementary school needed one. He volunteered because he wanted to share his love of running with a younger generation.
"It was like a calling to me: 'Chad, you need to do this,'" says Champion. "I wish I had been given that same opportunity when I was that age. I wanted to be able to do my part in making a difference for young people."
Champion is the son of a record-breaking multi-sport high school athlete from Florence, Alabama, and himself ran cross country in junior high and high school in Henderson. Like many of us, life got in the way of continuing his sport, so Champion hung up the running shoes for 20 years. A friend who was trying to lose weight beckoned him back in 2011. Their goal was to run 5k's every Saturday.
Before Champion knew it, his 5k training grew to training for a half-marathon, then a full marathon. In 2017, he started encouraging other runners as President of the Charlotte Running Club. He has now run more than 20 marathons and ultras, including his first attempt at 100 miles this year.
"Running has become a major part of my life," he says. "It has transformed me."
Champion spend a few hours each week transforming the lives of 4th and 5th grade boys with Coach Amy at McKee Road Elementary School's Let Me Run program. Even after 7 seasons as a coach, he still calls the end-of-season 5k one of his favorite times of the year.
"It's such a joy to be a part of this program," he beams. "I have loved every minute of it. To be able to instill confidence, a healthy lifestyle, and lifelong character lessons to boys at this age means the world to me."