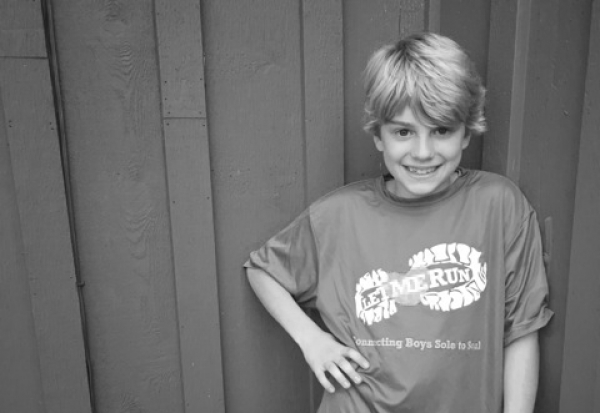 March 16, 2016 by Spotlight
Name: Bradley P.
Age: 10
Region: Charlotte Mecklenburg
Team: Olde Providence
Why did you join Let Me Run?
I joined Let Me Run to make new friends and to become a better runner.
How does it feel to know you belong in Let Me Run with 10,000 boys across the country?
It feels amazing! I can't believe that I get to be a part of such a great group of boys who are involved in the same things that I am, learning the same lessons in life from our coaches, and it's even cool to think we are all running at the same time even though we're all over the country. I bet some of us are even wearing the same kind of shoes!
What goals do you hope to accomplish through Let Me Run?
I want to become faster and build my endurance as a runner and to learn to be a great teammate.
What is your favorite part of practice?
My favorite part of practice is our long run because it gives me a chance to be a good teammate running with my friends. At practice I like to compete with myself but not others… I save that for the race.
What have you learned from Let Me Run?
I've learned to persevere during my runs even when I get a cramp! I've also learned to take responsibility for myself and to be a better friend to my friends and a better brother to my brothers.
How does running make you feel?
Like a have a cramp in my side…no really, running makes me feel strong because each time I run I know I'm making myself better than the time before. My mom always says, "If it doesn't challenge you it doesn't change you!"
How would you describe Let Me Run to your classmates?
I actually have told my friends Mason, Bishop, John, Craton and Aeiden about Let Me Run and I have encouraged them to sign up. I told them that LMR is a great place to make new friends, learn things in the lesson that help you in life, workout and become a better athlete…since running helps with all sports.
How do you feel at the end of your 5k race?
Pooped and proud that I did the very best that I could.
What do you enjoy about being part of a team?
Being part of a team is fun because you get to hang out with friends outside of school. Also, I like knowing that when I feel discouraged, the rest of my team is there to make me feel better and to help me be my best.
What would you tell a boy who is thinking of joining Let Me Run?
I would tell him that he should definitely join because it's a great opportunity to become a better person all around from the start to the finish!
Sarah P., Bradley's Mom
What do you think of the Let Me Run program?
We love the Let Me Run program! Bradley really enjoys running and since it's a favorite family activity we were so excited to learn of the opportunity for him to participate. The timing of practices has been convenient and we love the holistic approach the program takes to wellness and life.
What do you hope your son gets out of Let Me Run?
We hope that Bradley will continue to progress in his athletic abilities. In particular we are excited how he has built a strong base of endurance and cardiovascular health. Equally important is the friendships he has developed and the team skills he is continually working on. We hope this continues to shape and mold his overall personal development.
Have you seen a transformation in your son through Let Me Run? If so, please explain.
Yes! We had two teams at our school last year and Bradley ended up on the team with a great group of guys that he didn't know. At first he was disappointed not to be with the friends he already knew, but it provided an invaluable opportunity for him to stretch outside of his comfort zone and to develop new relationships. LMR has also given him, and his teammates, a safe environment to share feelings and deeper life concerns during lesson times that have served to build emotional confidence in a world that often shames sharing from the heart.
What would you tell other parents about Let Me Run?
We would highly recommend the LMR program to other families. Unlike other sports, running is more accessible to the masses and is an activity that can be done anywhere, anytime and at any age! Beyond that, it provides a unique place to focus on both personal and interpersonal growth in the mind, body and spirit. We give it an A+!
Do you plan to keep your son in the program through 8th grade?
Yes! We will never force our boys to participate in activities that don't interest them but as long as he continues to show a passion for running, you can sign us up!