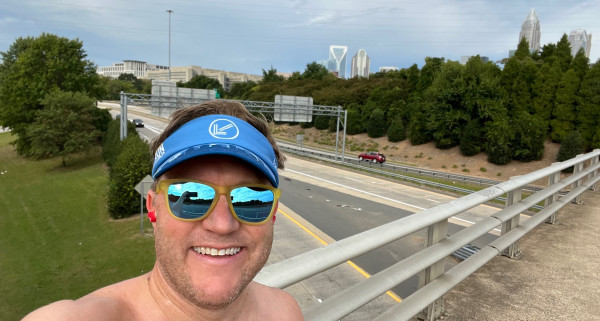 November 1, 2022 by Let Me Run National
It's event week for the more than 50,000 runners who will participate in this year's TCS New York City Marathon. Among that crowd will be five runners who've accepted the physical challenge of the event itself, as well as a fundraising goal to support Let Me Run.
Rob Watson is one of those runners. We're grateful for the hard work he and other fundraisers have put in this year—and for the time he spent with us and this quick interview as he prepared for his big race!
Let Me Run: Rob, can you share more about how you've been involved with Let Me Run in the past?
Rob Watson: I wasn't familiar with Let Me Run until my wife became an employee with the organization. From there I began to periodically attend events and ran the Charlotte Let Me Run 5k, which was an incredible way to see what Let Me Run does. Watching the excitement of the boys running, but also the leadership of their coaches was inspiring.
Let Me Run: Why is the mission of Let Me Run meaningful to you?
Rob Watson: The mission of Let Me Run is meaningful to me as a father of children who have challenges with their mental health. I know that many boys do not have the right support or conditions to face their challenges, whether mental health or just learning how to grow into men. It is also very meaningful to me personally as I know what the power of running can do to provide relief in difficult times, which is why I came back to running (during a difficult time in my life) and made it a critical part of who I am.
Let Me Run: How did you get into running?
When I was in 5th grade we had a running race and I won. The gym teacher said I was really fast. So I decided to do a 5k and did really well for my age. It was clear I was good at running long distances, but I loved team sports too much to do track or cross country in school. As an adult, I rediscovered running as an easy way to exercise. And it is my favorite way to see new cities or places I travel (I'm notorious for running through college campuses, my favorite, to / from a brewery out of town or to run an errand in a foreign city).
About 10 years ago, I went through divorce with young children and I was struggling with the change in life and how to be the best father I could be in the circumstances. On the nights when I did not have my children, I ran. I joined great run clubs in Charlotte and made friends in the running community. I also learned to challenge myself and extended my running capability to marathons, seeking qualification to Boston and targeted PRs.
Let Me Run: How has your training for the NYC Marathon been going? What are you most excited for with the race?
Rob Watson: Despite a heavy work load and travel schedule, I have managed to follow my training plan this time very well. Doing so has given me a lot of confidence and good speed. I'm excited to showcase that training and my years of preparation for the streets of New York. I'm also excited to see the city in a new way and share the experience with my wife, our kids and my mom who are coming to cheer me on.
Let Me Run: What is your favorite training advice?
Rob Watson: Listen to your body. Yes, that has the potential to seem to be a cop out during difficult runs, but to me, it is the best way to remind yourself that your body can do so many things especially if you are well trained. But, if your body can't, your body can't. And I can tell when pain is a "today pain" or an injury (usually) because I listen to my body. Your body will tell you it is sore and needs to be stretched. Your body will tell you when it needs more sleep. Your body will tell you when it loved that run!