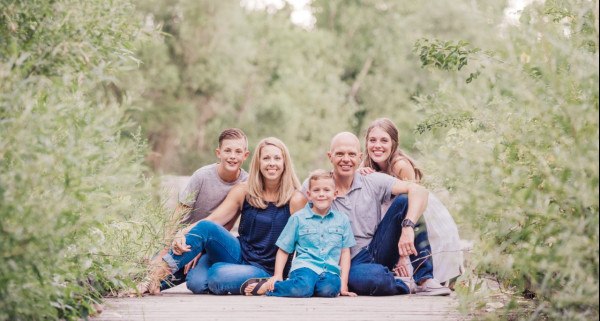 January 26, 2023 by Let Me Run National

Recently, we had the chance to catch up with Holly Tocknell who has been a volunteer in the Columbus region for many years. We wanted to honor her with the January 2023 Volunteer of the Month award as she's been involved with Let Me Run as a coach, as a race-day volunteer, through her son's participation in the program, and more! We spent some time catching up with her about her experience. Check out our convo with Holly below.
Let Me Run: Can you share more about how you've been involved with Let Me Run in the past?
Holly: In the beginning, I was a parent that had a son participating in the program. Twice a week, I would pick him up and hear the encouragement that the coaches were giving all the boys. I knew immediately that it was a program that I wanted to be a part of. After that, I became a coach. I was so inspired by the boys that I signed up to be a Let Me Run charity runner in the NYC marathon. I completed my first marathon in support of the Let Me Run program. It was such an honor and a memory that I will never forget!
Let Me Run: What is one of your favorite memories from coaching with Let Me Run?
Holly: Some of my favorite memories are from the 5k race at the end of the program. Watching all the boys cross the finish line, beaming with pride and confidence always gets me emotional. There is nothing better than seeing a kid accomplish something that he never thought he could do!
Let Me Run: Why is the mission of Let Me Run meaningful to you?
Holly: The mission of Let Me Run hits very close to home for me. I have two boys and I think it's so important to raise strong, confident and kind young men. I want my boys to know their value and know that they can accomplish anything in life with a lot of hard work and confidence.
Let Me Run: Do you feel that your son benefitted from participating in Let Me Run when he was younger, and are there any lasting impacts you've noticed?
Holly: I do feel that my son benefited greatly from the program. His confidence and ability grew each season. He went on to run in his middle school cross country team for two years. He finished a half marathon too!
Let Me Run: How did you get into running?
Holly: I got into running when I was in my 20's. I was looking for a new challenge and signed up for my first half marathon. I have done a few half marathons and a marathon. I am not a gifted runner, but I do believe anyone can run! If you are willing to try then you can do anything!
Let Me Run: What is your favorite training advice?
Holly: My favorite training advice- it's pretty simple….just start and be consistent! There's nothing fancy to running or doing any fitness activity. The hardest part is just starting. Tell yourself that you can do it and then run a few steps and then walk. Before you know it, you're a runner!
Thanks for taking the time to chat with us, Holly! We appreciate your involvement in Let Me Run and congrats on being our Volunteer of the Month.