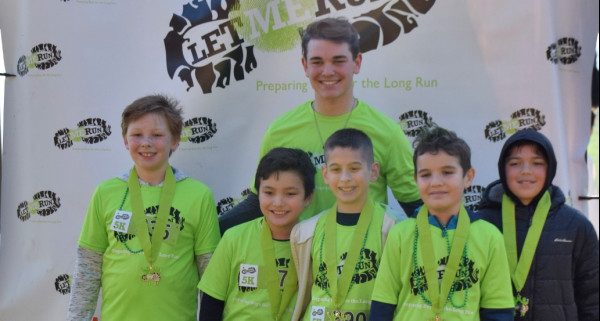 February 17, 2023 by Let Me Run National
This month, we feature Tyler Bean as our Volunteer of the Month. Tyler started volunteering as a junior coach in high school (all coaches must be at least 18 years old) and is about to start his 7th season with Let Me Run, now as a head coach.

Tyler looked into coaching while seeking a volunteer opportunity and immediately clicked with the mission of Let Me Run. Jen Shevitz, Let Me Run Seattle Regional Director, says that "Coach Tyler embodies everything we hope for our boys to learn from Let Me Run. From his first season as a junior coach, he has mentored them and been one of their biggest supporters." By modeling openness with his own journey about expressing his emotions, he sets a positive example for all boys on his team and gives them a wonderful role model in their life. We are so impressed by Tyler and his commitment and grateful for all the boys he has helped. Read the full interview to learn more about how his experience helped him to become a head coach for a select soccer team, how he overcomes the tough runs, and why he's been coaching for seven seasons.

Let Me Run: Can you share more about how you've been involved with Let Me Run in the past? How long have you been a coach?

Tyler: When I was a freshman in High School, I was introduced to the Let Me Run program. Needing volunteer hours to complete my National Honor Society requirements, my mom and I decided to reach out and see what this opportunity entailed. Let Me Run teaches "boys to be their best selves through a character development program powered by running." That was all I needed to hear to spark my interest. I volunteered as an assistant coach at my elementary school for the first time in the Fall of 2018 and fell in love with the program. I continued being an assistant coach throughout high school, taking a break only as a result of Covid-19. After I graduated, I got the opportunity to become the head coach of my own team and I had no hesitations in taking on that role. I have been coaching for Let Me Run for six seasons, and I am looking forward to starting my seventh season in the Spring of 2023.

Let Me Run: Why is the mission of Let Me Run meaningful to you?

Tyler: Growing up, I had difficulty expressing my feelings to others; opening up and understanding that my feelings have value took some time to get used to. I know firsthand how damaging the emotional aspects of toxic masculinity can be, so when I learned of this opportunity to teach boys the importance of being honest with themselves and their feelings, I knew this program would be a good fit for me. I love creating safe spaces for these boys to communicate freely and feel important and respected amongst their peers.

Let Me Run: What is one of your favorite memories from coaching with Let Me Run?

Tyler: After seven weeks of training, over a dozen lessons taught and even more miles ran, the best feeling in the world is seeing the boys cross the finish line at their end-of-season 5K. These moments are, without a doubt, my favorite memories in the Let Me Run program. And I am thankful that I get to witness my favorite memories at the end of every season. It truly is a wonderful feeling seeing the boys succeed and feel good about themselves after working so hard the weeks prior.

Let Me Run: How did you get into running? Why do you enjoy running?

Tyler: I suppose my running career started with the help of my parents. I grew up an athlete, playing every sport available in my home town. Soccer has always been my favorite, and it requires a lot of stamina to be successful, so running has always come naturally to me. When I was in elementary school, we had a program called mileage club where students would get the opportunity to run laps around the track at recess every Wednesday in hopes of winning prizes. It was sometime in my years at elementary school that I realized how much I enjoyed running. In middle school, I joined the cross country team. In high school, I stuck to soccer, so I did not continue with cross country, but I still ran for fun around my neighborhood. Running has offered me a clear head and a calm mind, becoming one of my favorite pastimes.

Let Me Run: What is your favorite training advice?

Tyler: Running can be light-hearted and fun, but it can also prove to be difficult. Everyone has bad days, and while running may offer and escape to some, it is almost certainly harder to run on a bad day then on a good one. When I am having one of those bad days, my favorite advice is to recite a mantra or motto that is motivational and personal. This helps keep me focused and pushes me to continue working hard. I am glad Let Me Run teaches the idea of repeating mantras in their program.

Let Me Run: Has what you have learned at Let Me Run affected the way you work and relate to others in other forums?

Tyler: Gaining this experience as an assistant and head coach for Let Me Run has directly helped me become a head coach for a select soccer team. Understanding how to work with kids in a way that teaches them important lessons and supports them in a healthy environment has allowed me to seek other coaching opportunities, ultimately leading to my new-found passion in coaching soccer. I am forever grateful for the opportunity to learn and grow in this wonderful program, and I cannot wait to continue on this journey.

Thank you, Tyler, for your commitment and dedication to Let Me Run!