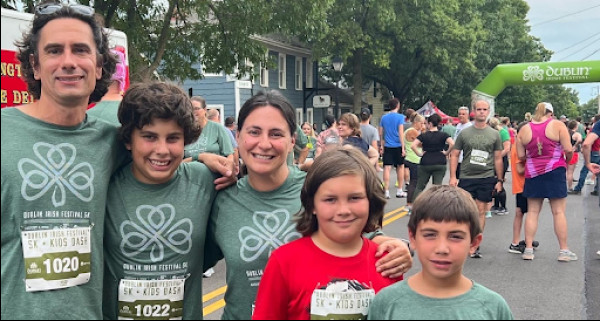 April 24, 2023 by Let Me Run National
This month, we talked to Amy Gatto Klein, who has been involved in Let Me Run both as a coach and as the parent of a boy in the program. As a mom to three boys, Amy has seen lots of sports and after school program offerings for her boys through the years. However, she encourages her boys to do Let Me Run - because it's not just about running (though that is a great part of it!). Read our interview to learn why her second son is now participating in Let Me Run and the value she sees in the program.

LMR: Can you share more about how you've been involved with Let Me Run in the past?
Amy: I first started with Let Me Run about 5 years ago as a coach at my kid's elementary school. I coached for several seasons before the March 2020 shutdown. After the program came back to our area school, my middle son has been a participant.

LMR: Why is the mission of Let Me Run meaningful to you?
Amy: As a mom to three boys, the Let Me Run mission is important to me because it is very unique in the world of youth sports. I like that the lessons talk about being a good teammate / friend, setting goals, and always trying your best, but the lessons also go a little deeper. Topics like handling anger and feeling all sorts of different feelings are also addressed. When I coached there was also a lesson on not having to wear a mask, but instead be yourself, which I think is a really important idea to talk about. My kids have had wonderful experiences in other youth sports, but some of that is luck of the draw of the coach. Let Me Run gives all the coaches the tools and lesson plans to have a meaningful and successful season. In addition to the running, the boys are being introduced to many different topics on the importance of just being a good kid.

LMR: You have experience both as a coach and having multiple sons participate in Let Me Run. Why was it important to you that your boys join, and how have they benefited from the program?
Amy: Participating in Let Me Run is important in our house because it's not just about the running. There are many programs out there that focus primarily on athletic development or achievement, but I appreciate how LMR takes into account other attributes of each participant. One of my boys still really doesn't enjoy running, but he thinks fondly of his time in Let Me Run because he deepened friendships and had a good experience. He also proved to himself he could do hard things, even if he didn't enjoy the run, he finished each 5k and was able to feel proud of not only the accomplishment, but of the journey to get there.
LMR: Are you a runner yourself? If so, what is your favorite training advice?
Amy: I'm no longer a runner. When I was running, I found it important to run with peers who had similar goals. Running with others is more fun and helps with motivation. (I think this is a benefit of LMR too!)

LMR: What advice would you give to anyone thinking of signing their boys up for Let Me Run?
Amy: Just do it! The program is really well-thought out and the coaches are well-trained. Attending the 5k at the end of the season is always a great time as you watch boys of all paces and abilities cross the finish line. It's a great learning and growing experience for the boys!