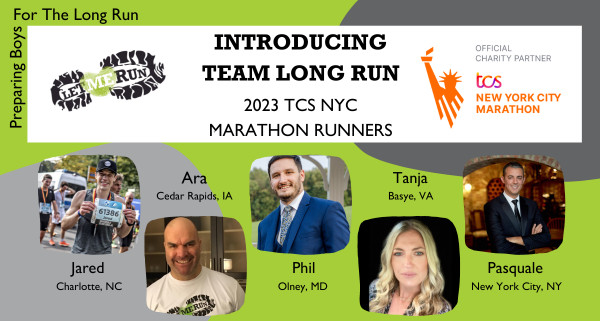 May 17, 2023 by Let Me Run National
We are so excited to introduce you to the newest members of Team Long Run, a group of five runners who will be tackling one of the greatest marathons in the world - the 2023 TCS New York City Marathon - while raising funds for Let Me Run. We already know they are fast, because registration for our team filled in record time and they all made the team! Now, we look to support them as they train and prepare for 26.2 miles in November.

Let's meet the team!

Phil D'Agnese is an Elementary School counselor in Olney, MD and has been coaching with Let Me Run for three seasons. He enjoys how Let Me Run helps young boys to demonstrate their own growth. While he has run other races, this will be his first marathon.
Jared Londry is a father of two girls and will be tackling his third of the six major marathon races as a member of Team Long Run. Jared lives in Charlotte, NC.
Ara S Ispentchian is from Cedar Rapids and has two kids, Zachary (16) and Margaux (14), and a wife, Amy. Ara works as an Information Technology Global Architect at Aegon and just celebrated 24 years with the company. The last 10 or so years, he has challenged himself to go further and further, participating in various distance races up to Ultra Marathons.
Tanja lives with her family in the mountains of Virginia, and they are very active in sports including biking, skiing and running. She has two children, a son (12) and daughter (10) with special needs. She was introduced to Let Me Run through a good friend who is very active in the organization, and her friend's passion inspired Tanja to get involved.
Pasquale Martinelli is the owner and the executive chef of a private dining and hospitality company based in New York City called Alloro New York Private Dining.