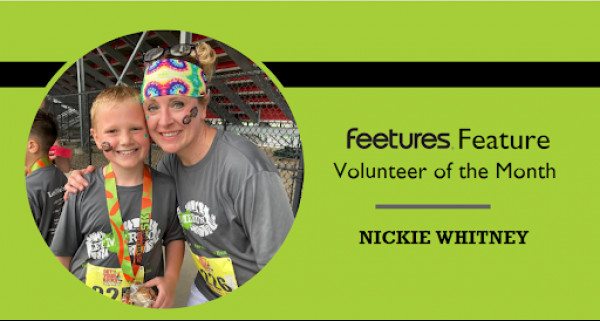 June 15, 2023 by Let Me Run National
Nickie is busy - always running between her kids activities, a demanding career, and all the other obligations that each day holds. She hoped someone would take the lead on restarting a Let Me Run team after Covid - but it quickly became apparent that if she wanted this for her boys, she'd need to take the lead as coach. She started out with a request on social media, found assistance coaches, and gave coaching a try. But in the process, Nickie fell in love with coaching because of the change she saw for her own son, for the other boys on the team, and even for herself. The end result was a 5k full of celebrations, happy tears, every single boy beating his goal, and so much more. Read more about how this twist of fate led Nickie to find something so incredibly powerful, and why she will definitely be coaching again next year.
LMR: Can you share more about how you've been involved with Let Me Run in the past? How long have you been a coach?
Nickie: This is my first year coaching LMR! And my first year with a son participating. My oldest was interested when he was in elementary school, but the season was cancelled due to COVID. I was hoping that someone would bring it back when my youngest son hit 4th grade, so I guess I figured why not me?! I had no idea how to get started, or even if any other families would be interested, but when I found out that our local 5K would be held on my birthday, I decided it was meant to be. I put out some feelers on social media and quickly realized that this could work! With the help and guidance of the LMR organization's amazing staff, I got trained (and the training got me SO excited!), twisted the arms of a few amazing parents to assist, and ended up with an incredible team of 16 boys. There is NO question that I'll be back to coach next year!
LMR: Why is the mission of Let Me Run meaningful to you?
Nickie: I'm the mom of two incredible boys, a 7th grader and a 4th grader. I see what labels do to their hearts - how heavy it can feel to carry the weight of society's expectations - and I'm determined to remind them each and every day that they get to define themselves. No one else. When I read over the lessons encompassed in the LMR program it was like a breath of fresh air! Not only did I want to share this experience with my son, but with each and every boy I come across.
LMR: What is one of your favorite memories from coaching with Let Me Run?
Nickie: I truly have too many to list. We started out as a group of strangers/acquaintances and we ended as a family. Those boys know they have a forever advocate in me - no matter when, no matter where, I'll be there. BUT, if you made me pick one memory I'd say race day. How can you beat race day?! And more specifically, they way that these boys supported each other. Every runner stayed voluntarily until our final runner crossed the finish line. Better yet, they ran parallel with him until he crossed. I will never, ever forget that moment. All the training. All the lessons. All the hours. They matter! This proved they matter.
LMR: How did you get into running?
Nickie: I ran track as a middle schooler, but it really wasn't until my boys hit preschool that I decided I need to find a peaceful outlet for my chaotic mind. I started running, very slowly and short distances to start. But I loved the freedom it brought and the serenity I felt. I went on to compete in countless races and even ran my first full marathon in 2019. I love racing because it's me vs. me...with so much cheering from loved ones and strangers alike! I have gotten a bit off course over the last few years, but this LMR experience reminded me just how beneficial running is for my mind and body health.
LMR: What is your favorite training advice?
Nickie: You vs. you, always. You don't get to compare yourself to others, because no two journeys are alike. There may be runners faster than you, or slower than you...they are no better, no worse. Each runner has a gift, and the most exciting part is that you get to decide what that gift is on any given day. One day, it may be that you are building endurance or speed. The next, it may be to connect with friends. And then the next, to clear your mind after a hard day. Every single run provides a gift. Oh, and also DRINK WATER ALL DAY EVERY DAY AND DON'T SKIP STRETCHING! ;)
LMR: What would be your advice for anyone thinking about becoming a Let Me Run coach?
Nickie: Do it. Don't hesitate, just do it. I promise you that your life will change maybe even more so than the boys you coach, and you will find incredible purpose! I wasn't sure that I could pull this off - I work many, many hours in a stressful career. But, man oh man - not only did I somehow make it work (LMR lesson plans and the coach kits they send you are AMAZING and have you covered!), I can't wait to do it again. The kids come from all walks of life - and let's be honest, some parents signed them up perhaps with some protest. But, every practice they warm up and their joy grows. Every practice you have a front row seat in seeing how the program will best benefit them as individuals. For some, running helps them with other sports. For others, they find a group of kids and adults to call friends. Both are life changing.
LMR: Can you share a funny or inspiring story from coaching?
Nickie: Ahh I have so many! I have to pick a few!
(1) I made individualized certificates for our runners to present at our season-end celebration. It was SO fun!! One of them was awarded a "Leaves it all on the course" certificate...because I literally had to jump over his vomit near the end of our 5K course lol. (He definitely finished with NO regrets! And also no substance in his stomach.)
(2) We had some hard practices. Hot practices, rainy practices...I'm not going to lie and say those days were easy. BUT, nothing helps like a coach running with the team carrying a bluetooth speaker over my head, dancing and being super silly along the way! The boys loved it, and I did too!
(3) I shared a birthday with one of my runners, which landed on our 5K race day. He came in first on our team, SLAYING his goal time by over 10 minutes. I mean, come on, that's insane! I also brought cupcakes and the entire team was so excited to sing to him (and me), and the smile on his face was incredible. Speaking of race goal times, every runner on my team beat their goal. How amazing!
(4) Watching my own son's physical mental health transform. His effort day in and day out, the pride in his eyes when I was leading...it's beyond words. It was one of the greatest gifts of my life.