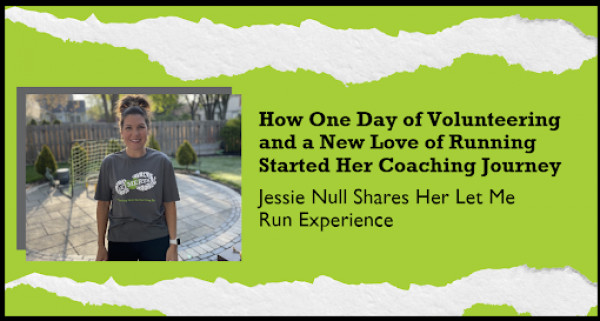 June 26, 2023 by Let Me Run National
This month, we caught up with Jessie Null, a LMR coach for two seasons. What started as a one-day volunteer commitment at the 5k turned into something so much more when Jessie realized how amazing and transformational Let Me Run could be for boys, including her two sons.

Jessie didn't regularly run until a few years ago and started with a 5k race. But, like so many of us, she realized how much running can become more than that - a chance to push yourself, connect with others, and see progress. Last fall she ran her first half marathon and already has plans to run more.

Read more about Jessie's story and how Let Me Run has impacted her, her boys, and so many others!
Jessie's story:
Hi. My name is Jessie Null and I have been a LMR coach for 2 seasons. I started volunteering at the LMR 5k and fell in love with the program. I am married and have 2 sons. My oldest was so excited to join LMR and I jumped at the chance to be his coach. Watching not only my own boys, but so many other boys grow in their running journey has been so rewarding. I think for me, seeing the boys set goals for themselves and watching them crush those goals is the most exciting and rewarding part about LMR. They are all stronger than they knew. I have not always been a runner. Not until a few years ago did I run my first 5k. It became a fun social thing for me at first. I would meet friends, run the race, collect a fun medal and go to dinner. It evolved into me constantly wanting to push myself to do just a little more until last fall I ran my first 1/2 marathon! (and yes I will strive for a better time this fall!) Having friends to run and train with is key! This is another reason why I also love LMR. The boys are forming friendships and constantly encouraging each other. It is a fun and safe space for them to be themselves and grow into the best version of themselves!