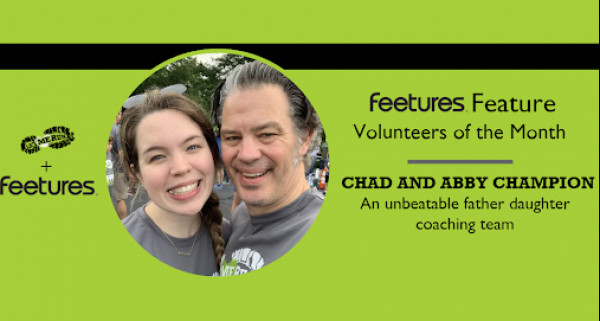 July 25, 2023 by Let Me Run National
Chad Champion has been coaching with Let Me Run for seven years, always eager to see the growth and progress of each boy on his team. Last year, he had a new experience - having his daughter, Abby, fill the role of assistant coach on his team! After hearing stories from her dad and watching some practices, Abby decided she wanted to get involved herself. The two had the chance to connect with each other in a new and unique way, while also building connections with the boys on the team. When asked about the experience, Chad shared that he and Abby "saw a side of each other that we didn't see before. I've always known that Abby has a compassionate side with young children. I got to see it first hand and it melted my heart when the kids really bonded with her."

Chad has been a huge part of his community for so many years, and it's wonderful to see Abby doing the same. We are grateful to Chad for all he does for Let Me Run, and now for inspiring the next generation to do the same! We are honored to present them with the July 2023 Volunteer of the Month award for their dedication to Let Me Run.

Read on for our interview with Chad and Abby!
LMR: Can you share more about how you've been involved with Let Me Run in the past?
Chad: Having been very active in the Charlotte running community for several years, I have been very involved with Let Me Run. In addition to coaching for the last 7 years, I have served on their local steering committee, volunteered for summer camps and other events, and created an annual Black Friday Run which raised money for Let Me Run scholarships.
LMR: How long have you been a coach?
Chad: I have been coaching at McKee Road Elementary since Spring 2017.
LMR: Why is the mission of Let Me Run meaningful to you?
Chad: Running has empowered me so much. This is just one way for me to share my love of the sport and provide life lessons along with it. I have seen first hand from being around this program for so long, the impact that it has made.
LMR: What are your memories of your dad coaching in the past and why did you want to join him?
Abby: My dad was so excited with being allowed to coach. I loved hearing his stories and I met up with my Dad & coach Amy and watched a couple of practice sessions. I then decided this is something I liked to help out with.
LMR: What was it like to co-coach with your daughter/dad?
Chad: Abby has known about my involvement with Let Me Run for a long time. Having her by my side coaching this past season was an amazing experience. I believe we each saw a side of each other that we didn't see before. I've always known that Abby has a compassionate side with young children. I got to see it first hand and it melted my heart when the kids really bonded with her. This experience has boosted her confidence, has given her a sense of pride to giving back to the school she once attended. and it has provided Abby a personal interest in running.
Abby: It went very well my dad knows a lot about running and what it takes to succeed. He was very inspiring to listen to and I really enjoyed watching the boys respond to his coaching.

LMR: What would be your advice for anyone thinking about becoming a Let Me Run coach?
Chad: It's a time commitment. I am fortunate that I have a flexible work schedule, and an employer that supports volunteering. If you can find the time to coach, I guarantee you will be enriched and inspired like none other. You will be making a real positive impact on these young boys.
Abby: It's a great experience but it will require a lot of patience and a time commitment. It is very rewarding, I highly recommend it!

LMR: Can you share a funny or inspiring story from coaching?
Chad: Too many to share. I am fortunate to have been around so many different boys with diverse backgrounds and see what a positive impact this program has made on them. My favorite days of the year is the Let Me Run 5k. I try to pace with each boy on the team. I start off with the faster ones and drop back. I love seeing every boy's expression and hearing their excitement when they cross the finish line. They realize that through hard work and commitment, they can achieve anything.
Abby: There was one day we were running a time trial and one of the boys came up to me and asked if he could run without his shoes. I told him to keep running & I didn't think barefoot was a good idea.