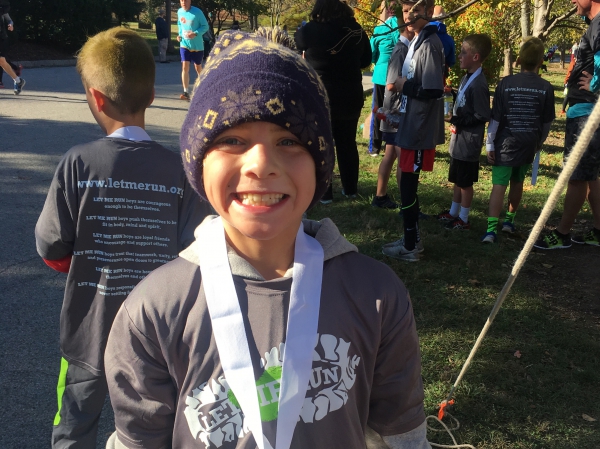 September 6, 2017 by Spotlight
Name: Tommy C.
Age: 10
Region: Let Me Run – St. Louis
Team: The Wilson School
Why did you join Let Me Run?
To become a better runner and be with my friends.
How does it feel to know you belong in Let Me Run with 1,000 boys in the St. Louis area?
Wow that is a lot of boys! It feels pretty cool! It makes me feel like I'm a part of a big team. It was so fun last year to see all of the boys from the St. Louis area in the same shirt running together. I am excited to do it again this year.
What goals do you hope to accomplish through Let Me Run?
I hope to run 13 miles during my training and run faster than I did last year.
What is your favorite part of practice?
Running with my friends.
What have you learned from Let Me Run?
I learned to keep running even when I am tired. I also learned how to be a better teammate by encouraging others. Finally, I learned how to set a goal and stick to it.
How does running make you feel?
Happy inside (and tired!)!
How would you describe Let Me Run to your classmates?
It is a lot of fun. You can be with your friends after school and learn how to run.
How do you feel at the end of your 5k race?
Like I accomplished something big. It was exciting to cross the finish line and see my mom standing there cheering for me. I also felt really cool when they gave me the medal.
What do you enjoy about being part of a team?
I like having the support from all of the other boys.
What would you tell a boy who is thinking of joining Let Me Run?
Just DO IT!!!!!
1,000TH Let Me Run – St. Louis Boy's Parent
What do you think of the Let Me Run program?
I am a huge fan of the Let Me Run program! I often tell people about how much we enjoyed watching our boys participate in the program. They learned proper running techniques, stretching and nutrition. They also learned how to support and encourage one another as well as be a part of a team. One of the highlights for me was the day my boys came home with an envelope full of anonymous notes from each of the other boys on the team with supportive and kind words.
What do you hope your son gets out of Let Me Run?
A love of running, a stronger understanding of teamwork, and a sense of accomplishment after working hard.
Have you seen a transformation in your son through Let Me Run?
The transformation that I saw in my sons was in their confidence. Being in a supportive environment while also learning a sport was a positive experience. The confidence that I saw came from knowing that they could be themselves, make connections with old and new friends, and also feel supported.
What would you tell other parents about Let Me Run?
"Let me be me. Let me reach out. Let me run." This is what the boys said at the end of each of their practices and is a perfect representation of what the program stands for. LMR is a program that is wonderful for each boy. It helps them to grow as an individual, and also as a team member. Skills that they can use for the rest of their lives.