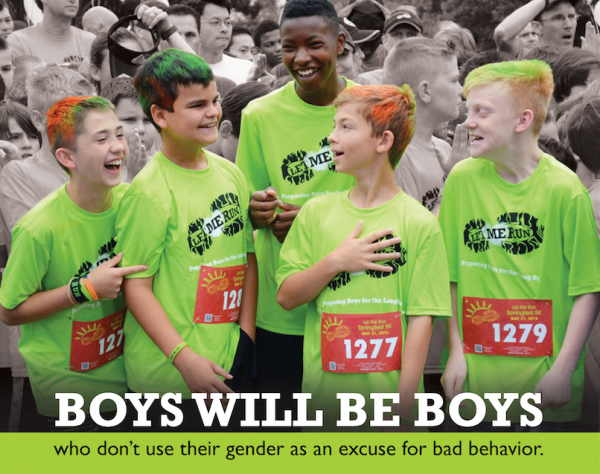 November 1, 2017 by Ashley Armistead
Dear Let Me Run family,
"Boys will be boys" is one of the many messages that contribute to destructive male stereotypes. Hearing this over and over as a mother of boys, I knew we were selling our boys — and ultimately society — short. I knew that boys are capable of so much more than our limiting expectations of them and something had to be done. Running felt like the perfect vehicle to foster boys' emotional and social health because it creates a sense of camaraderie and space for vulnerability. Thanks to the efforts and expertise of many people, Let Me Run started in 2009 in Charlotte, NC.
Now more than ever, our boys need permission to be human. Boys need us to recognize that they need caring, empathy, deep relationships and respect. Loneliness and weak social connections reduce lifespans at a similar rate to smoking 15 cigarettes a day. Loneliness has a higher mortality rate than that of obesity, and it's also associated with a greater risk of cardiovascular disease, dementia, depression, and anxiety.
Boys' school performance, depression, substance abuse, and suicide rates need to change. Boys need to know that it is ok to ask for help instead of suffering in silence. They need to know other ways to express anger and sadness besides violence and aggression. They need to know that career and play choices are not masculine or feminine, but unique to each individual's gifts.
My hope is that Let Me Run reaches all boys — whether it be a coach, participant, parent, or teacher. Our many volunteers, donors, and dedicated staff share this vision: to allow boys to feel value instead of shame, to feel supported instead of alone, and to be courageous enough to be themselves and live into their full potential. Healthier boys will mean healthier girls and, ultimately, a more peaceful and productive society.
Thank you for taking time to learn how we are preparing boys for the long run.
With deep gratitude,
Ashley Armistead