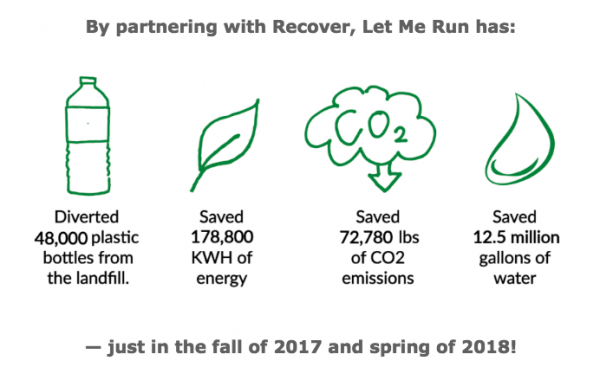 October 31, 2017 by Let Me Run National
We encourage all our Let Me Run boys to practice positive environmental stewardship by participating in community clean-ups and bringing reusable water bottles to every practice. Now we're making strides to take our commitment to the environment even further.
We're proud to announce Recover as an official merchandise partner of Let Me Run. Recover's mission is to create the best, most environmentally friendly and socially responsible products possible, and to educate and inspire those around them to live and work for a sustainable tomorrow.
In fall 2017 and spring 2018 alone, Recover will supply 6,000+ race shirts to the boys participating and growing in the program across the country. Each Recover Let Me Run shirt is made of 8 recycled plastic bottles and upcycled cotton, and is part of sparking connection, inspiration and integration of environmental education into the Let Me Run program.
Recover Co-Founder Bill Johnston says, "Let Me Run works to create future leaders working for a sustainable tomorrow, and Recover is all in to be part of that."