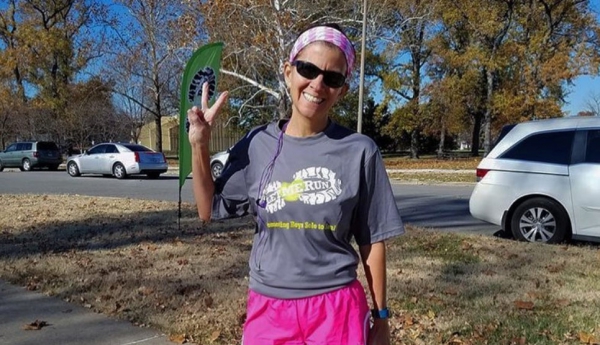 April 4, 2018 by Let Me Run National
By Amy Margolis
On April 16th, long-time Let Me Run volunteer Rachel Simpson will be running the Boston Marathon as a member of the Powered by Hyland's team. As a full-time teacher at The Wilson School in Saint Louis, Rachel joins an all-teacher team training for the famous Boston road race supported by #HylandsPowered, the cramp relief sponsor of the Boston Marathon.
Rachel is a mother, lifelong runner, teacher, and coach/mentor for girls through Girls on the Run and for boys through Let Me Run. Rachel has been involved with Girls on the Run for 10 years and she saw a real need for a similar program for boys. There was no such program in the St Louis region, so when a coaches training came to town she jumped on the opportunity. She not only started the Let Me Run program at her school, but she is now a head coach for the past 5 years and on the advisory council for the past 2 years.
Let Me Run motto is "Preparing boys for the long run." On the surface, it is a 7-week program that trains boys, 6th-8th grade, to run a 5K. Digging deeper it has much bigger goals. It hopes to instill lifelong skills, helping the participants deal with everything from communication, stress, nutrition, and goal setting. It promotes and fosters healthy relationships within the group and in general. Each session has a lesson which allows the coach and boys to spend some time running together, and discussing the "words to live by", a motivational quote that focuses on the topic at hand.
As a lifelong runner, Rachel believes in the power of running. It has been her "saving grace" during difficult times, has allowed her to spend time with family, friends, and co-workers, and has fueled her passion and desire to pass this on to the next generation. She hopes her students and Let Me Run boys "will turn to running when they are dealing with difficult things in their life. It is such an amazing and healthy outlet".
Boston Marathon 2018 will be Rachel's 3rd trip to Boston and her 17th marathon overall. She is extremely excited to be a part of the Hyland's team and has enjoyed sharing this experience with the other teachers.