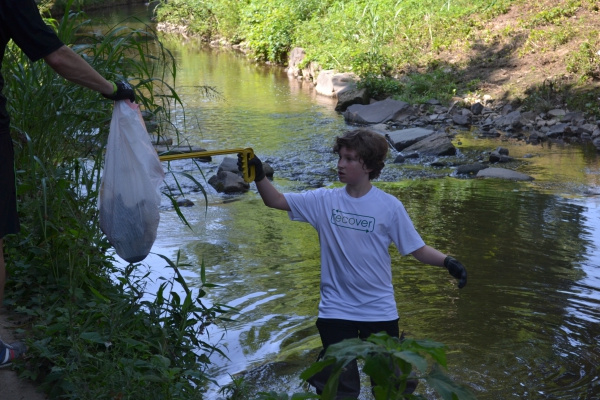 July 25, 2018 by Let Me Run National
Day 3 of Let Me Run Summer Camp in our Greater Charlotte region is always one of the boys' favorites because it's the day they get to jump in the Sugar Creek to clean up trash. This year, they collected over 25 pounds of trash and recycling!
To drive home the importance of recycling and taking care of our environment, Recover co-founder Bill Johnston talked to the campers. Recover is a sustainable apparel company that upcycles plastic into fabric, and Bill explained how Recover can turn 8 plastic bottles, like the ones they pulled from the creek, into the t-shirt they were wearing.
Let Me Run is proud to have Recover as an official merchandise partner. By partnering with Recover to produce all our race shirts, we have already diverted 48,000 plastic bottles from the landfill, saved over 175,000 KWH of energy, saved over 70,000 lbs of CO2 emmisions, and saved 12.5 million gallons of water. We're grateful for Recover for all they do for our environment and our LMR boys.
Shop Recover brands on Let Me Run's store to support the LMR program and the environment at the same time.