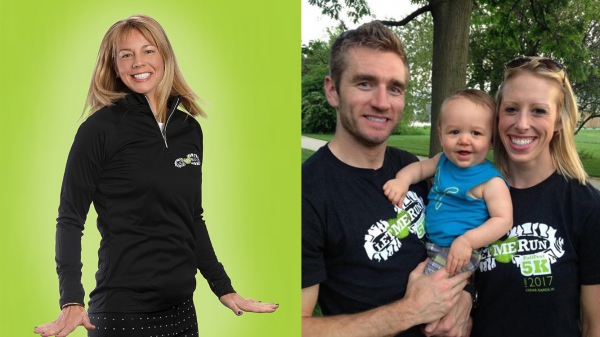 October 25, 2018 by Let Me Run National
Let Me Run inspires boys through the power of running to be courageous enough to be themselves, to build healthy relationships, and to live an active lifestyle, but the inspiration doesn't stop there. Let Me Run has inspired two new people to join the Let Me Run team!
Over the past 10 years, our program has reached over 23,500 boys across 29 states. In 2013, Michigan joined the Let Me Run movement. Our Kalamazoo region has grown to host the program at over 30 local schools, which has impacted almost 900 boys. Jennifer Altwies, mother of three, Let Me Run coach, and now Kalamazoo Regional Director found her passion for Let Me Run a few short years ago when her oldest son became one of those 900 boys. Through her son's involvement, she realized "the tremendous potential for this program to help boys and their parents," which instantly struck a chord with Jennifer. As a former teacher, Jennifer has commited her life's work to the healthy development of adolescents and she saw Let Me Run as a "forum where boys learn to create the best version of themselves," while also helping them "learn how to show compassion and empathy toward others."
Eastern Iowa Corridor's new Program Coordinator Stephanie Coffey also understands the importance of developing socially and emotionally healthy boys, saying "I believe that our society needs to better invest in our youth, as they are our future leaders and entrepreneurs and the best way we can achieve that is by focusing on programs like Let Me Run." As a former personal trainer, Stephanie recognizes the importance of creating physically healthy boys as well. Stephanie has "personally experienced the joys, inspiration, and courage that running gives" and believes "that everyone deserves to experience that gift." She will work alongside Regional Director, Hailee Sandberg, to ensure that over 70 boys at 7 local schools in our Eastern Iowa Corridor region experience the multitude of gifts our program has to offer elementary and middle school boys.
As our staff continues to grow, so do our hopes for our program. By 2020, we hope to reach over 40,000 boys nationwide and you can help us achieve that goal. The need to develop emotionally, socially, and physically healthy boys is more important now than ever. Join the movement and register, coach, or donate at LetMeRun.org.