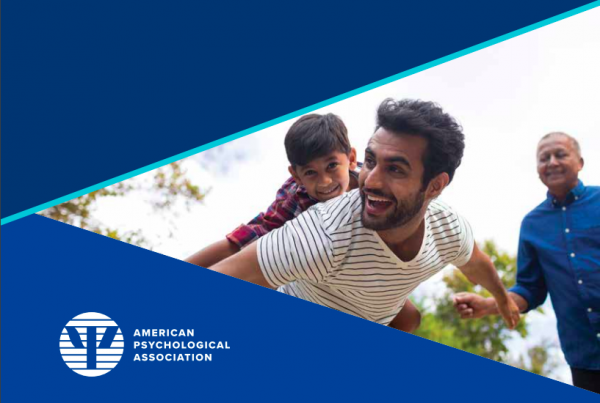 February 8, 2019 by Let Me Run National
The American Psychological Association cites over 40 years of research that shows "traditional masculinity — marked by stoicism, competitiveness, dominance and aggression — is on the whole, harmful," according to an article published by the APA following the release of its first official guidelines on the psychological practice with boys and men. The APA is the largest scientific and professional organization of psychologists in the United States and is widely recognized as the standard voice of the field.
Over a decade in the making, these groundbreaking guidelines explain that boys and men express themselves in a wide range of ways, known as the plural "masculinities." The APA acknowledges that while there are many differences and ways to express masculinity ideologies, "there is a particular constellation of standards that have held sway over large segments of the population, including: anti-femininity, achievement, eschewal of the appearance of weakness, and adventure, risk and violence. These have been collectively referred to as traditional masculinity ideology."
This widespread acceptance of traditional masculinity as the norm means that "many men are socialized by friends, family, peers, and society to adopt traditional masculine ideals." This socialization of boys and men that requires males to adhere to traditional masculinity, or risk being seen as less of a man, leads to many negative consequences. Citing decades of research, the APA states, "socialization for conforming to traditional masculinity ideology has been shown to limit males' psychological development, constrain their behavior, result in gender role conflict, and negatively influence mental health and physical health."
Not only that, the guidelines explain that "men's life expectancy is almost 5 years shorter than women… Men's age-adjusted death rates for heart disease and cancer — the two leading causes of deaths, which account for almost half of all deaths — are 50% and 80% higher, respectively, than women's rates."
Although men's health problems are related to a wide variety of factors and variables, the APA cites studies that show "many gender health disparity patterns can be tied to heightened risk behaviors for men beginning in early adolescence" because "gender role socialization often encourages men to adopt masculine ideologies that may be associated with health risk behaviors" including substance abuse, violence and aggression, less willingness to consult healthcare providers, less use of preventative healthcare, and risky sexual and driving behaviors.
Additionally, the guidelines explain that "traditional masculinity ideology discourages men from being intimate with others and is the primary reason men tend to have fewer close relationships than women… Components of traditional masculinity such as emotional stoicism, homophobia, not showing vulnerability, self-reliance, and competitiveness might deter [boys and men] from forming close relationships with male peers."
Loneliness is becoming an epidemic in the United States. According to former Surgeon General Dr. Vivek H. Murthy, "loneliness is associated with increased risk of premature death, and the effect on mortality is comparable to [the] impact of smoking or obesity."
Critics of the new guidelines say that the APA paints all males as bad or damaged, and all traditionally masculine values as destructive.
Throughout the guidelines, though, the APA cautions against this very idea of stereotyping and generalizing boys and men based on traditional masculine norms, because every male's experience and expression is different, based on a wide array of intersecting factors, values, and identities (e.g. socioeconomic, racial, sociopolitical, sexuality, age, faith, heritage, etc).
Ryon McDermott, Ph.D., helped draft the guidelines and said they aim to provide psychologists with ways to encourage men to "break free of masculinity rules that don't help them and find flexibility in the potentially positive aspects, illustrated through courage and leadership."
Traditional masculine norms take healthy ideals to the extreme and damaging end of the spectrum. The Partnership for Male Youth says, "when healthy norms of masculinity are twisted, virtues are destroyed. Strength becomes aggression. Honor becomes disrespect. Courage becomes fear of having vulnerable feelings. The protector becomes a bully."
To challenge the unhealthy social norms associated with traditional masculinity and change the outcomes, the APA encourages psychologists to "help boys and men build health-promoting behaviors such as engaging in self-acceptance, fostering a positive identity, engaging in preventative medical services, and developing the habits of healthy diet, sleep, and exercise… Psychologists are also encouraged to engage boys in strength-based experiential groups to promote friendships and support among boys while helping them to critically examine dysfunctional boy codes and restrictive notions of masculinity."
The Let Me Run program is doing just that. Let Me Run is a nonprofit wellness program that creates safe space space for boys to grow up not just physically healthy, but psychologically healthy, too. Our mission is to inspire boys to be courageous enough to be themselves, build healthy relationships, and live an active lifestyle. With a comprehensive curriculum that applies the power of running, each practice includes a health and wellness lesson that's designed to amplify confidence, self-expression, and respect for others. Each seven-week season culminates in a 5k race festival that celebrates the boys' personal growth.
Learn more about how Let Me Run improves participants' attitudes and behaviors around healthy masculinity and social competence.