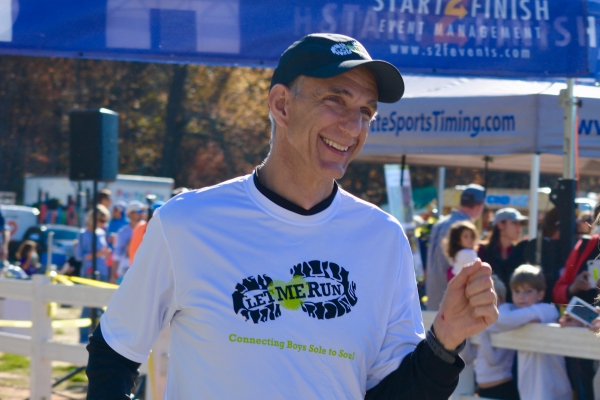 March 10, 2019 by Let Me Run National
Let Me Run is celebrating its 10th anniversary this year, which is a milestone achievement. Since 2009, Paul Martino has been an integral part of the organization, first as a coach and board member, then serving as Executive Director since 2011.
Let Me Run Founder Ashley Armistead says, "Paul was so brave to accept the job as the first Executive Director of Let Me Run. He poured his heart into spreading the mission across the country, and we've reached many boys, coaches, volunteers, and employees over the last decade."
Paul has lead the organization's growth from 4 teams in Charlotte in its initial year, to now more than 24,000 boys served across 31 states, with a national growth rate of 50% per year. Thanks to the support of over 7,400 volunteers, the Let Me Run program is run in over 500 schools across the country. Additionally, Let Me Run has hosted end-of-season 5k races across 6 states with plans to expand further in 2020.
In 2016, the University of North Carolina at Greensboro's Institute to Promote Athlete Health and Wellness conducted an independent study that finds Let Me Run is making a substantial positive impact in boys' lives. A review of the professional literature revealed UNCG's groundbreaking study to be the first published to examine healthy masculinity in boys, as well as a program's ability to improve it. The evaluation also showed substantial improvements in Let Me Run participants' ability to express emotions, show affection, build friendships and connect with others.
Paul wasn't surprised by these findings, explaining, "What Let Me Run does for these boys goes so far beyond running. There is greatness within every boy. It is awesome to see that greatness shine bright. Let Me Run helps boys discover what that is. Let Me Run gives boys permission to be who they really are and shows boys how to respect each other and appreciate the greatness within each other. Let Me Run boys will journey from 'Let Me' to 'I Will'."
This year, with the completion of a successful 5-year strategic plan, Let Me Run is set to embark on a new strategic planning initiative to take the organization into the next 10 years. Paul believes this is the right time to step down so that Let Me Run can have one continuous Executive Director in place to lead both the development and the implementation of the new strategic plan. Ashley says, "Let Me Run is heading into the next chapter with a huge demand for the program and a family of employees and volunteers to stand behind it."
We're grateful for Paul's dedicated, enthusiastic leadership over the past 8 years, and we look forward to continuing to fulfill our mission in the years to come, thanks to Paul's impactful contributions that have helped shape Let Me Run.