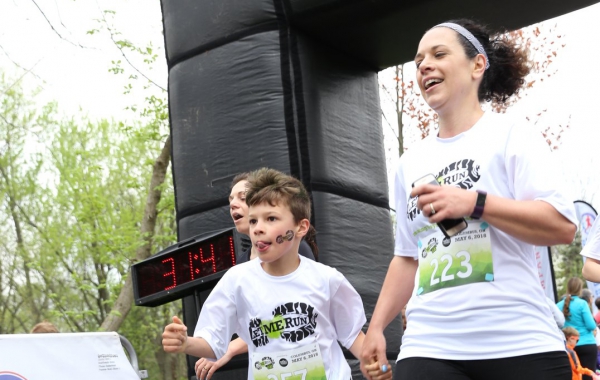 April 10, 2019 by Spotlight
Name: Elijah Gibbs
Birthday: April 26, 2009
Region: Columbus
Team: Scottish Corners Elementary
# of Seasons: Two (2) seasons officially. (One (1) additional season unofficially as a coach's son in 3rd grade) :)
Why did you want to join Let Me Run?
My mommy works for Let Me Run Columbus and I went to a LMR "pop up" run with her before I was in 4th grade. I ran with some of the boys and coaches. I ran two miles and I really thought is was fun and I loved it.
What is your favorite part of practice?
When we get to run. We have a running path that is an "out and back" path with lots of trees and I like that one the best.
What have you learned from Let Me Run?
I have learned things about running I didn't know before like "cadence" and "mid-foot." I learned there is a lot of fat in fast food. I learned from the baking soda/vinegar experiment to use my words when I'm angry, not my fists.
How does running make you feel?
Happy because when I run I get to be outside and get my energy out.
How would you describe Let Me Run to your classmates?
It's a running team that you get to run and do lots of fun activities. You get to meet new friends. The coaches are nice.
How do you feel at the end of your 5k race?
I feel proud for finishing my race because last season I set a goal to finish my 5k in 27:45 and I did it in 27:09.
What would you tell a boy who is thinking of joining Let Me Run?
I would tell him to join the team because we get to run outside and you get to meet lots of new people and we do lots of fun activities. We even played "flag football" at one practice and that was so fun.
What do you enjoy about being part of a team?
You get to run with different people and learn about them.
How does it feel to be 10 years old?
I am happy to be 10 because I will be older and get to do more things.
Let Me Run is turning 10, too! How would you tell Let Me Run to celebrate their birthday?
I think they should have a party and invite all LMR boys and their families to come. We would all run one or two miles and then have barbecue and lemon cake.
What would you want yourself to remember in 10 years, when you're 20?
It doesn't matter if other people are faster or better than you, it just matters if you have fun and are kind.