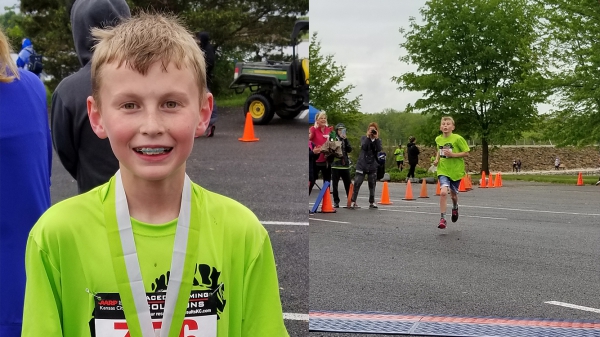 May 21, 2019 by Spotlight
Two years ago, a 5th grade boy announced to his teacher, "The girls always get everything! Why isn't there a cool running club just for boys?" From there, Suzanne Hudson, 5th grade teacher at Shoal Creek, did some research and found Let Me Run. The first Let Me Run team was born at Shoal Creek Elementary in Liberty, MO, with 15 boys, Coach Hudson and her teenage son, Coach Collin in the spring of 2017.
Let Me Run is not your ordinary after school running club. Let Me Run is literally changing the way boys grow up by instilling respect for one another, promoting confidence and enabling teamwork. Using running as the vehicle to reach and inspire the boys, Let Me Run's comprehensive curriculum breaks down the male stereotypes that often stand in the way of boys' positive futures and frees the boys to express themselves.
Gavin McKenna was one of the boys on the team on this first team at Shoal Creek. He was always the team leader in the practices and the coaches could tell that he was going to be a strong contender in the 5K race. Indeed, Gavin was the winner. He finished first in the Let Me Run season-ending 5k event at Heritage Park in Olathe, KS in May 2017. He was excited to win, but more important, he was a huge support system to his teammates. Always making sure that he cheered each one across the finish line.
In its third year at Shoal Creek, this year the Let Me Run team had a different mission. Gavin McKenna had been diagnosed with osteosarcoma in the Fall. Colin, Gavin's little brother wanted to join the Let Me Run team to support his brother and to win the race, just like his brother had done, two years prior. Every practice the boys talked about Gavin and ended their unity lap with the following chant:
Let me be me.
Let me reach out.
Let me run!
ONE, TWO, THREE Gavin Strong!
Every junior coach or running buddy that came to practice was told Gavin's story and was awarded a GAVIN STRONG band. Just like Gavin, Colin was always the team leader during the practices. He worked hard with each time trial to make sure that he could do his best during the race.
Once again, the boys would be attending the JCPRD Heritage Park HP3 5k event in Olathe, KS on May 11, 2019 with the other 12 Let Me Run teams from across the Kansas City Metro. Just a couple of days before the 5K Race, Gavin was released from Children's Mercy. He was able to attend the race to support his brothers and the other boys that had been cheering for him all season.
The day of the race, Colin was nervous. His mom and dad were both a bundle of nerves for him as well. They knew how much pressure that Colin put on himself to win the race for his brother. After just a few minutes into the race, Gavin was so excited for his brother, he kept saying, "I think I see him coming!" Just a little over 22 minutes passed, when Colin crossed the Finish Line. Colin was exhausted after running such an amazing race, but all of the pressure quickly subsided when he saw his brother Gavin. Additionally, oldest brother Aiden McKenna finished the 5k with an impressive 20:40 taking second in the Overall Male Category.
All of the boys finished strong on Saturday. Even more important, they learned that the Let Me Run Program combined with the boys on their team taught them how to get physically fit, emotionally strong and run with a purpose. #GAVINSTRONG