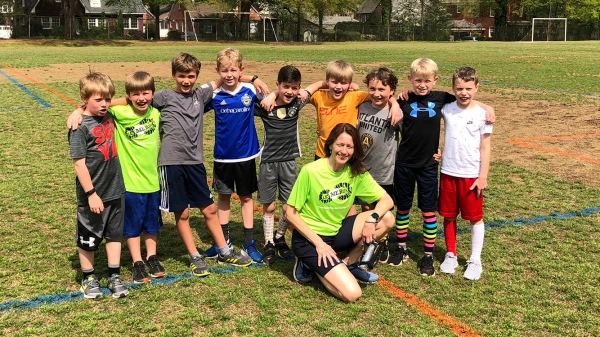 May 31, 2019 by Spotlight
Let Me Run coach Melissa Seuster has incorporated running into every aspect of her life. Her marathon running career began in 2012, which blossomed into joining a running club in her area. "Since then, I have gone back to school, received a master's degree in Health Education, became a Certified Running Coach, am working on a Health Coach certification, and have made a complete career shift from corporate communications to health education and coaching. I have been able to work in a field where I am truly passionate and I love helping people to achieve their goals," she says.
Running is not only a part of Melissa's life, but her family's as well. "My son participated in a Let Me Run program last fall. He is in 8th grade so this was his last opportunity to be a 'Let Me Run boy.' I was so thrilled and I wanted to be his coach … but he was less than enthusiastic about that! I still wanted to support the program and committed to coaching younger boys – a 3rd grade pilot group – this season," she explains.

As a mother of two boys, Melissa has always been aware of the men she wanted to raise. "With lots of friends coming in and out of my home, I always wanted to support them in developing into thoughtful, productive and confident people," she says. Even though she has only coached for one season, Melissa can already see a difference in the attitudes of the boys on her team. "The fast ones are more humble; the slowest one is hardest on himself, and we have spent a lot of time talking, one-on-one, about how it is more important to try than to fly," she states.
Melissa will have completed 10 marathons by the time she runs in the 2019 TCS New York City as a charity runner for Let Me Run. She anticipates this marathon to be a very special, memorable experience. Along with crossing the finish line, reaching her fundraising goal of $5,000 will mean so much to her. "It will mean that I stretched myself to go beyond my comfort zone. That's the whole reason I run marathons!" she explains. You can help Melissa reach her fundraising goal for the Let Me Run program by donating on her Crowdrise page today!