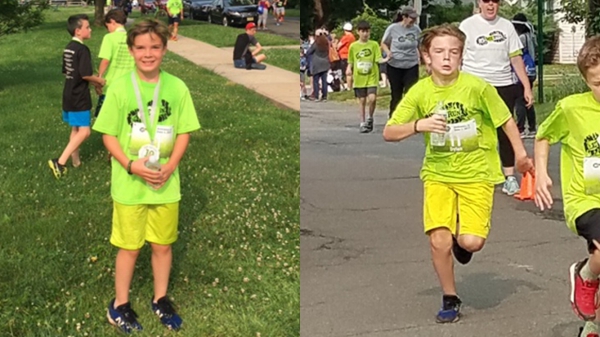 July 8, 2019 by Spotlight
Name: Dylan
Birthday: July 8, 2009
Region: Central New Jersey
# of Seasons: 1

Why did you want to join Let Me Run?
I wanted to be given a challenge. I thought training for a running a 5K would be challenging. I play soccer and like to run, so I thought it would be fun.

What is your favorite part of practice?
My favorite part of practice was running with my friends. We ran different distances every day, and I always tried to run further and faster than the day before. It was fun.

What have you learned from Let Me Run so far?
I learned to push myself every time. Even if I was having a bad day, I pushed myself to run further and faster, and it always made me feel better.

How does running make you feel?
Energized! When I ran, I always found the energy to keep running through anything.

How would you describe Let Me Run to your classmates?
Let Me Run is challenging. By running and always trying to do better, I challenged myself every day I ran.

What would you tell a boy who is thinking of joining Let Me Run?
It's a great way to give you something to be proud of.

What do you enjoy about being part of a team?
I enjoyed teambuilding activities. They were always fun, and there were always times to encourage other people.

How does it feel to be 10 years old?
Fun because you finally get to be part of the Double-Digits Club!

Let Me Run is turning 10, too! How would you tell Let Me Run to celebrate their birthday?
Have the people from the different locations who ran the 5K all run together.

What would you want yourself to remember in 10 years, when you're 20?
I want to remember to inspire other people to do different things.