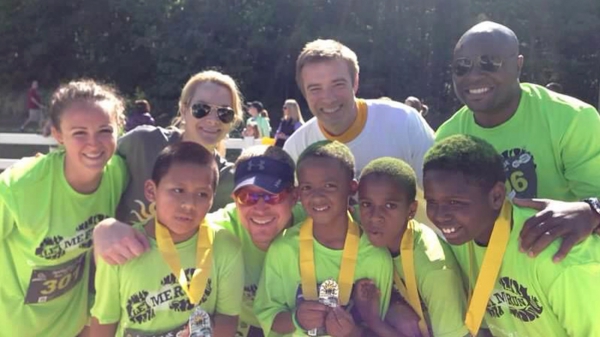 July 17, 2019 by Let Me Run National
The timing is finally right for TCS New York City Marathon charity runner, Lindsay Schall. "I had wanted to be a Let Me Run Charity Runner for several years, having been a coach for Let Me Run and having seen its positive impact on boys in our community, but the timing was never right because we were in the process of building our family," she explains.

Now with two young boys, Lindsay is even more aware of the struggles that boys face. She explains how the world seems to be more harsh than the one she grew up in and how her boys will need to develop new skills to navigate it successfully. "I think Let Me Run teaches those skills, namely the strength to face challenges with confidence, but also empathy, self-esteem, respect for others, that it's okay to show affection, and how to be healthy through running, which is a gift that each boy will always be able to draw on," she says.

Lindsay chose to apply as a Let Me Run charity runner "because I wanted to support an organization that is teaching our boys the skills they need to succeed in this world, and, as the mother to two young boys, including a two-year old and a newborn, I had taken a bit of a hiatus from running and wanted to serve as an example for my boys of the importance of working hard to meet a challenge," she explains.

Over the next few months Lindsay will work to achieve two goals: crossing the 2019 TCS New York City Marathon finish line and meeting her fundraising goal of $6,000. "I've never tried to raise money for something before, but Let Me Run is an organization whose mission I really believe in. It would be incredibly rewarding if I could hit my fundraising goal and thereby support and raise awareness for an organization that is making a meaningful impact in our boys' lives every day," she states. You can help Lindsay reach her fundraising goal by donating on her Crowdrise page today!