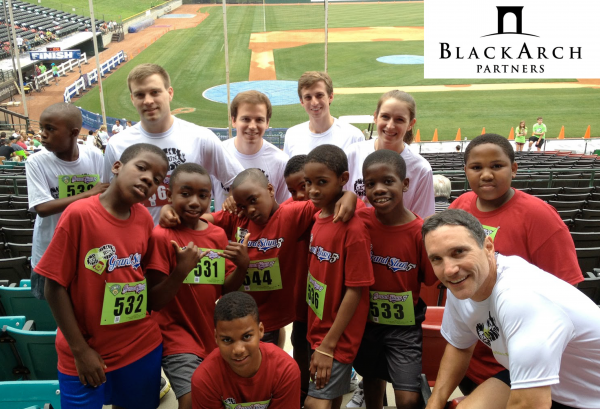 September 9, 2019 by Let Me Run National
Since 2009, BlackArch Partners has provided Let Me Run with financial backing as well as coaches, race volunteers, board and committee members, and TCS New York City Marathon charity runners. BlackArch Partners has also been a long-time sponsor of our annual Heroes for the Long Run breakfast fundraiser, as well as our Let Me Run Greater Charlotte 5k races. As a dedicated supporter of Let Me Run, we want to say thank you. Our organization has flourished with your support. We're grateful for your contributions, and for growing with us for 10 years.
Our organizations have many shared values that seek to create a better place for the youth in our community by teaching boys in the Charlotte area how to live a healthy, active lifestyle. Nowhere is this more important than in some of the city's most challenged neighborhoods, where a void in mentorship is all too often filled by undesirable role models.
BlackArch Partners has consistently sent teams of professionals to take time out of their busy schedules to coach. One of BlackArch's associates who volunteers for Let Me Run once said, "For me, this experience has opened my eyes to some of the challenges our city's youth are faced with, as well as the importance of the Let Me Run mission. In just a few short weeks, I've experienced 5th grade boys dealing with issues such as gang violence and exposure to drugs and alcohol. Faced with these challenges, it's all the more important that the boys learn how to set goals, receive positive reinforcement and encouragement to achieve those goals, and learn about the qualities that make people successful (and unsuccessful). Let Me Run provides that and much more. It's a transformative experience for the boys and coaches alike."
BlackArch's professionals strive to make tangible progress towards providing the boys with the mentorship and values they'll need to make good decisions and lead healthy, successful lives at each and every practice.
Over our 10 year lifespan, Let Me Run has impacted over 27,000 boys across 31 states, after starting with just 14 boys in Charlotte, North Carolina. With a growing staff force across the country, Let Me Run plans to have served 40,000 boys by 2021. This wouldn't be possible without the incredible support from BlackArch and Let Me Run's strong community of national and regional staff, coaches, and volunteers..
"As the organization celebrates its first 10 years and the thousands of boys impacted, I'm excited to work with our staff and partners to set a new strategic vision to further grow the size and impact of the program," said Emily Battle, Let Me Run's new Executive Director.
Thanks to the steadfast support from BlackArch, Let Me Run is celebrating a decade of nurturing socially, emotionally, and physically healthy boys. We look forward to continuing our partnership and growing together over the next 10 years — and beyond.
+++
About BlackArch Partners
BlackArch Partners is a leading middle-market investment bank offering a full spectrum of advisory services to financial sponsors, private companies and diversified corporations. BlackArch addresses the needs of owner-operators, founders and shareholders of private companies with specialized services that include M&A advisory, strategic advisory and private capital solutions.