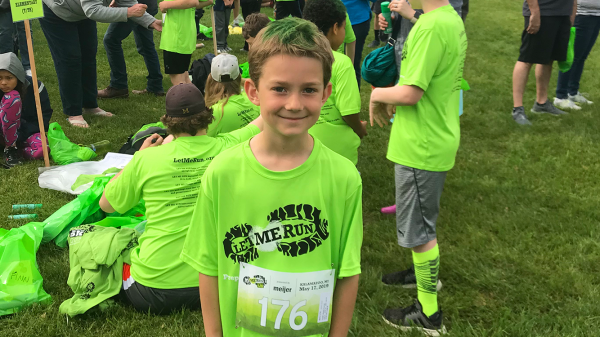 September 1, 2019 by Let Me Run National
Name: Conrad
Birthday: September 1, 2009
Region: Kalamazoo
# of Seasons: 1
Why did you want to join Let Me Run?
To get better at running.
What is your favorite part of practice?
When we had to run because I wanted to see how many laps I could do.
What have you learned from Let Me Run so far?
Different stretches.
How does running make you feel?
It makes me feel fine and now I enjoy races.
How would you describe Let Me Run to your classmates?
We do a unity lap and then we run around the school, a certain amount of laps, then we stretch, then we meet in different groups, then we have a snack, then we meet as a big group, and then it's time to go home.
What would you tell a boy who is thinking of joining Let Me Run?
You should do it. It will help you with running a lot.
What do you enjoy about being part of a team?
That I can do activities with my friends if they are on my team. We help each other in different activities.
How does it feel to be 10 years old?
I'm in double digits!
Let Me Run is turning 10, too! How would you tell Let Me Run to celebrate their birthday?
That's a hard question. Run 10 miles.
What would you want yourself to remember in 10 years, when you're 20?
I want to remember what it's like to turn double digits, my friends, my soccer team, Fortnite, and the trip I went on this summer out west.